Big Top is a software company that connects startups and individuals within the Triangle. We helped them reposition their new brand and build their innovative software platform.
Our team took a two-step branding approach that let us rapidly update Big Top's identity while we carefully crafted a more strategic brand experience.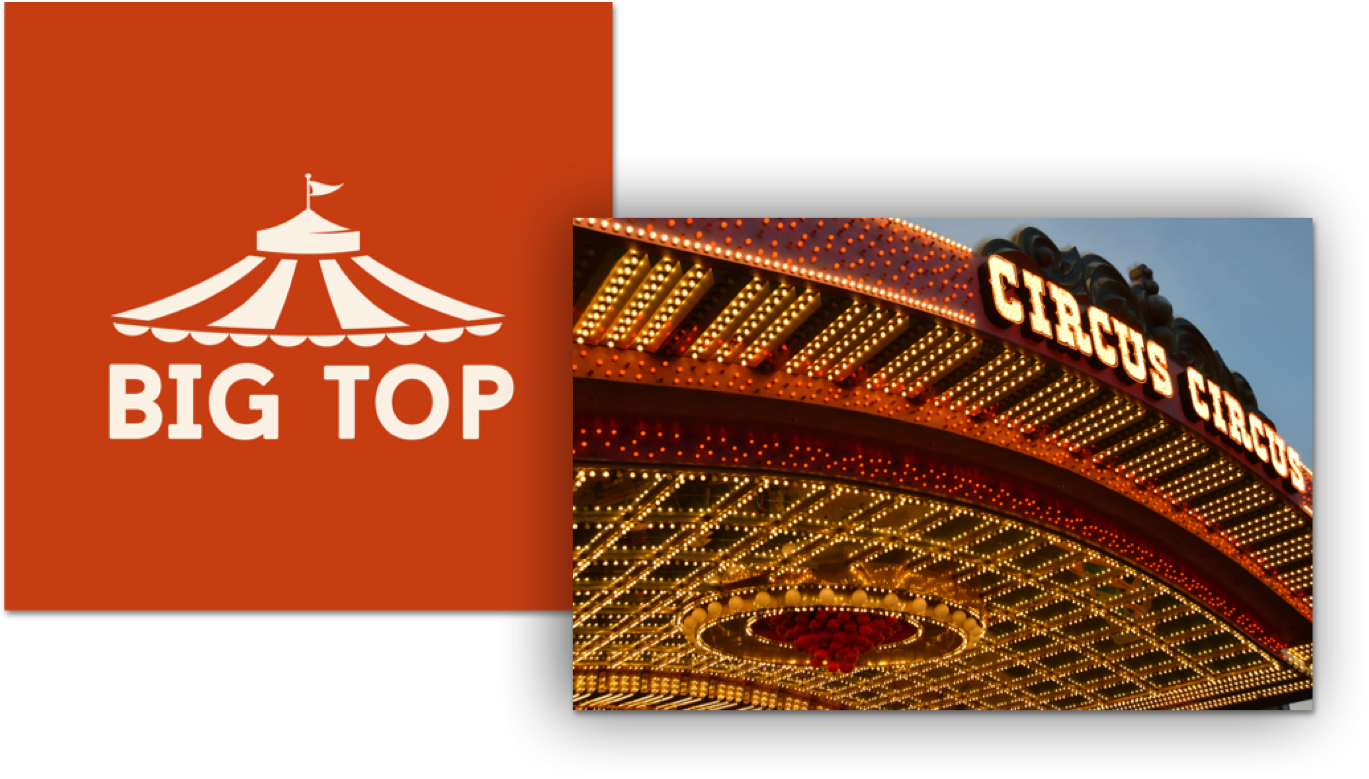 We had one week to modernize the current Big Top logo and website to lay the foundation for what we dreamed Big Top could stand for.
We then launched into our overall brand process, leaning into our strategic discovery tools: lean canvassing, color & type boards, and mark prototyping.
Out of our initial discovery, we developed a few principles on which to anchor our brand. First, we acknowledged that the job hunting process brings with it deep pain and second, Big Top needed to counter this with a brand expression that focused on excitement instead of frustration. In crafting this brand expression, we drew inspiration from Latin American architecture that communicates a sense of celebration, urban street visuals that convey a high degree of creativity, and contemporary art installations that used a wide variety of highly saturated colors.
Using this new found inspiration, we deviated from the classic color paradigm of Primary, Accent, & Base palettes and instead focused on a larger array of primary colors.
We Love Gotham: Typography Choices
In keeping with a brand promise of bringing something refreshing to the startup industry, a sans serif font family was the obvious choice. We selected Montserrat and Gotham, two character sets that have wider characters to help communicate a more approachable, yet still elegant, emotion.
Awesome Textures, Bad Idea
In order to help balance the attention of competing colors and to bring some liveliness into the brand, we attempted to use high contrast textures – a lot of them. Our hope was that by pushing the bounds of what we considered "organized chaos," we could communicate a vibrant energy.
Gradients Were The Answer
Abandoning the use of textures, we decided to opt for a palette of two-tone gradients. By pairing only a few of the colors together, we were able to create a repertoire of backgrounds for use in multiple situations.
In the end we know we got it right, especially when we applied this identity to all the other moving pieces of the Big Top brand.
Lesson Learned: Branding is not just about what looks good, it's about what's right
"We knew we needed something fresh, to re-energize our brand, and to make a statement about what our community values. The diversity of backgrounds in the Pathos Ethos team helped make that new brand a reality."
Molly Demarest, Director of Big Top
Aligning Strategy with Engineering
After completing the new brand, our team started helping the Big Top team engineer a software platform that was aligned to their business strategy. Doing that required using discovery exercises to stay on top of unfolding requirements and to fundamentally champion the whole Big Top business, not just its product, marketing, or sales verticals.
Product Design
Building custom software is an inherently risky endeavor, even more so once ideas hit the keyboards of engineers. To mitigate the risk, especially in the earliest phase of a startup, we use product-crafting tools like story mapping, wireframing, and release planning, to cheaply iterate on ideas before they become dollar signs. For Big Top, we mapped out how the business-aligned product would function and how to effectively get there.
High Fidelity User Testing
Once we had a fairly strong idea on what to build, we took it to our product designers to develop a non-functioning, clickable prototype. This served two purposes. First, a chance to show investors what the team had been developing and second, a chance to test our problem/solution hypotheses on real users. This proved invaluable in leading us to our current product.
Hands-On Engineering
Our engineers worked hand-in-hand with the Big Top team to flesh out the platform we had all envisioned earlier. With frequent touch-ins and expert business guidance from the Big Top directors, we were able to time successful product releases to live events, and continue to do so today.